Click Below to Learn More
DOWNLOAD YOUR FREE REPORT:
THE TOP 10 THINGS YOU MUST KNOW BEFORE CHOOSING YOUR ENDODONTIC SPECIALIST IN TENNESSEE
BY DR. SHEATS
If you are researching for the most qualified and caring endodontist in Nashville, TN, Franklin, TN, Murfreesboro, TN, or Hendersonville, TN, for yourself, your child, or a loved one, you're in the right place at Sheats Endodontic Group! Just like every mouth is different, every endodontic office is different. For help with your research, download Dr. Sheat's free report:
"The Top 10 Things You Should Know Before Choosing Your Endodontic Specialist"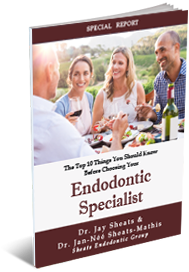 DOWNLOAD YOUR FREE REPORT:
THE TOP 10 THINGS YOU MUST KNOW BEFORE CHOOSING YOUR ENDODONTIC SPECIALIST IN TENNESSEE
BY DR. SHEATS
If you are researching for the most qualified and caring endodontist in Nashville, TN, Franklin, TN, Murfreesboro, TN, or Hendersonville, TN, for yourself, your child, or a loved one, you're in the right place at Sheats Endodontic Group! Just like every mouth is different, every endodontic office is different. For help with your research, download Dr. Sheat's free report:
"The Top 10 Things You Should Know Before Choosing Your Endodontic Specialist"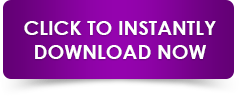 Dear Friend,
If you are looking for an endodontist in Nashville, TN, then you're in the right place! Whether you're looking for a new endodontist, just moved to the area, or were referred to us by your regular dentist, all of us at Sheats Endodontic Group are happy to help you!Our #1 priority is to provide personalized, high quality care to each and every patient. We are committed to treating patients using the most recent advances in endodontic science, in a welcoming, caring, and comfortable environment. We think you will notice the moment you step in the door that Sheats Endodontic Groupis different from any other oral health care office setting you've experienced before. In fact, we are so devoted to quality care and exceptional customer service – we constantly review and evaluate how we can further improve your experience!
We became endodontists because we have a passion for healing and for making people smile. This gives us the opportunity both to care for people in our community, and to make them excited about smiling again. Whether you're experiencing tooth pain, in need of a root canal, or retreatment of a previous root canal, our practice will make you rethink your standards and expectations for an endodontist in Nashville, TN.
Ultimately, you will want to do your research before choosing your endodontist. To help you along, we wrote this report: The Top 10 Things You Must Know Before Choosing Your Endodontic Specialist in Tennessee. Inside this report, you will find the golden standard to follow as you gather information and make your decision about the right endodontist for you.
When you have finished reading this report, we invite you to take advantage of our New Patient Diagnostic Evaluation. We will do an evaluation to see how we can best help you, plus we will go the extra mile to ensure you're relaxed during treatment. Your oral health and comfort are our top priorities at Sheats Endodontic Group.
We look forward to meeting you!
To Your Healthiest Smile,

P.S. Don't forget to take advantage of ourNew Patient Diagnostic Evaluation. You can request your appointment with our endodontic specialist by calling 615.933.9999.

Dr. Jay Sheats & Dr. Jan-Néé Sheats-Mathis Are Proud Members
of the Following Professional Associations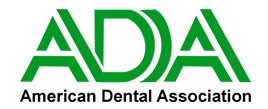 Read What Patients Say About Sheats Endodontic Group &
Learn Why They Are the Go-To Root Canal Specialists in Nashville, TN
"I was referred to the Sheats Endodontic Group by my dentist for a root canal which I did not want to do because I remember the last time I had dental surgery. I was surprised that I felt zero pain during or after the root canal was completed. Everyone there was very professional and I would recommend Sheats Endodontic Group to anyone."
– James T. 
"I am leaving five star because they deserve it. After having a nightmare experience with another dentist, I was having so much pain and needed root canal, made an appointment there and they were able to see me in 2 days. Dr. J sheats was so professional, he did a great job and I would recommend him to all my friends and family . A+"
– Rahim E.
"I want to say Thank You to all the staff and Dr. that assisted me on Friday. I walked in with a painful toothache and only water would make me feel better. The front desk lady went to find me a bottle of water so sweet of her. When I saw the Dr. a test was done to find out what tooth was causing my toothache and then he numbed my tooth. The assistant was super sweet and personable as well. It was not painful and I am thankful I went to the office. I am now recovering from my root canal."
– Cindy M.
"My first root canal went great! Dr. Sheats and his staff were very informative and professional. Barely any pain during my root canal and after the swelling went down and the feeling came back I had barely any pain and no problems. I was happy. I would highly recommend my family and friends to see Dr. Sheats and his team if they need a root canal done."
– Daryl Z. 
"I was very pleased with my experience at Sheats Endodontic Group. Dr. Jimmy Sheats is a master at his craft. He made every effort to make sure that I did not feel any discomfort. His staff was very cordial and professional. I will always recommend Sheats Endodontic Group."
– Veronica S.
*The reviews on this page are from actual patients of Sheats Endodontic Group.
Individual results may vary. Reviews are not claimed to represent results for everyone.
Dr. Jay Sheats & Dr. Jan-Néé Sheats-Mathis of Sheats Endodontic Group:
Trusted & Experienced 5-Star-Rated Endodontists in Nashville, Franklin, Hendersonville
& Murfreesboro, TN for Root Canal Treatment
Over 350,000 People Helped in Nashville, Hendersonville, Brentwood, Clarkesville, Cool Springs & Smyrna, TN